BAP APPLICATION OPEN

SOON!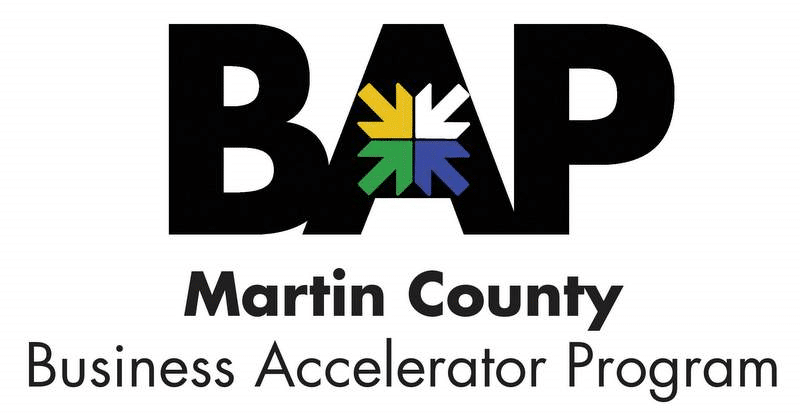 Next Session Begins: Fall 2022
Martin County Business Accelerator Program
The Business ACCELERATOR Program (BAP) provides business counseling, technical assistance and training for small business owners, and the opportunity to attain an allocation of reimbursable mini grant funding for small business growth. The purpose of the BAP is to enhance entrepreneurial skills and activities, create jobs and assist in the expansion and growth of our existing business community.
Program Benefits:
Professional Headshot (Value: $250)
Opportunity to Pitch (Up to $5,000 +)
PR & Business Promotion
Business Counseling from SBDC (Upon Registration)
How to apply?
The business must be in Martin County and hold a current Martin County, City of Stuart OR the Villages Business Tax Receipt
Complete the Business Accelerator Program online application found below. (no fee to apply)
Upon your acceptance, Pay the $125 Program Fee.
Applicants will be notified of acceptance into the program via email from Program Coordinator.
---
What if I am accepted into the program?
If accepted into the program, participants will be required to attend ALL the ACCELERATOR business training program classes, except for emergencies or previous communication with the organizers.
Applicants who are accepted into the program will be notified via email along with the REGISTRATION form for Program Fee.
The New Cohort will be announced
The program consists of one (1) weeknight class for 3 hours for a duration of 10 weeks.
Participants who successfully complete the program will be eligible to apply for a Reimbursable MINI GRANT through the ACCELERATOR program.
Questions? Contact Jaymie Sardo, Program Coordinator at 772.221.1380 or jaymie@bdbmc.org
---
BAP Testimonials
"After more than 25 years serving the public as professional planner, Bonnie C. Landry and Associates, P.A. (BCLA) was a dream realized by its founder, Bonnie C. Landry, AICP. Landry has built a dynamic team of professionals to continue to serve the public sector as a consultant. The firm, located in Stuart, was established to provide long-range and short-range planning services, contracting exclusively with local, state, and federal governments. By focusing on public entities and denying work with private developers, the firm eliminates the potential for a conflict of interest. Much of the firm's early success can be attributed to the Business Accelerator Program (BAP). BCLA is now in its fourth year, thanks to the valuable tools provided by BAP. Although an experienced planner, the firm's president had zero experience in running a business. The accounting module proved most helpful as it explained complex accounting principles in plain, easy to understand language. This module, as well as follow up meetings with its instructor, Michael Bernard, EDFP, Business Consultant, helped to fiscally position the business for its future success. The program also provided ongoing support and directed the Firm to financial support to weather the storm of the Covid-19 Pandemic. "
"BCLA was also fortunate to be awarded a grant for $2,500 which funded unique polling equipment that is used to gain consensus at public workshops. This equipment is a vital tool to successful public engagement and for gaining consensus among diverse groups of participants. The polling devices provide honest, real-time feedback from the community and guide a variety of planning documents. The firm also found great value in the program's networking opportunities with other small businesses who had similar challenges in establishing a firm business model and setting goals for its future growth. Some of the members of this module still meet occasionally for coffee to check in with one another and share ideas."
"BCLA highly recommends this program to small businesses looking for tools to build a strong business foundation as well as how to look toward the businesses future growth." – Bonnie C. Landry, AICP. President, Bonnie Landry & Associates Professional Planning Services
"I was eager to join this course for a variety of reasons. I had already been in business for over 6 years, however I feel that there is always something new to learn. I wanted to absorb and implement what I thought would be beneficial to my type of business overall for continued growth, and success. It was worth the time I put into the program, and I highly encourage anyone who owns a business, large or small to take part in the Business Accelerator Program."
Candace Lopes, President of Skin Serenity Spa