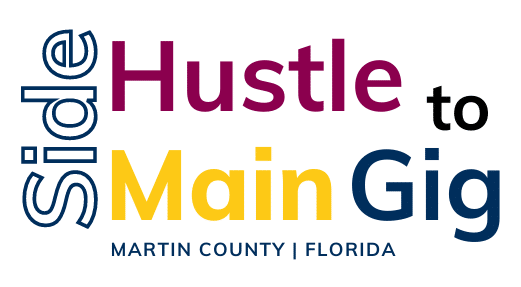 ENROLLMENT NOW OPEN FOR THE MAY 3 – JUNE 7 VIRTUAL SERIES!
Purchase and Reserve Your Seat . . .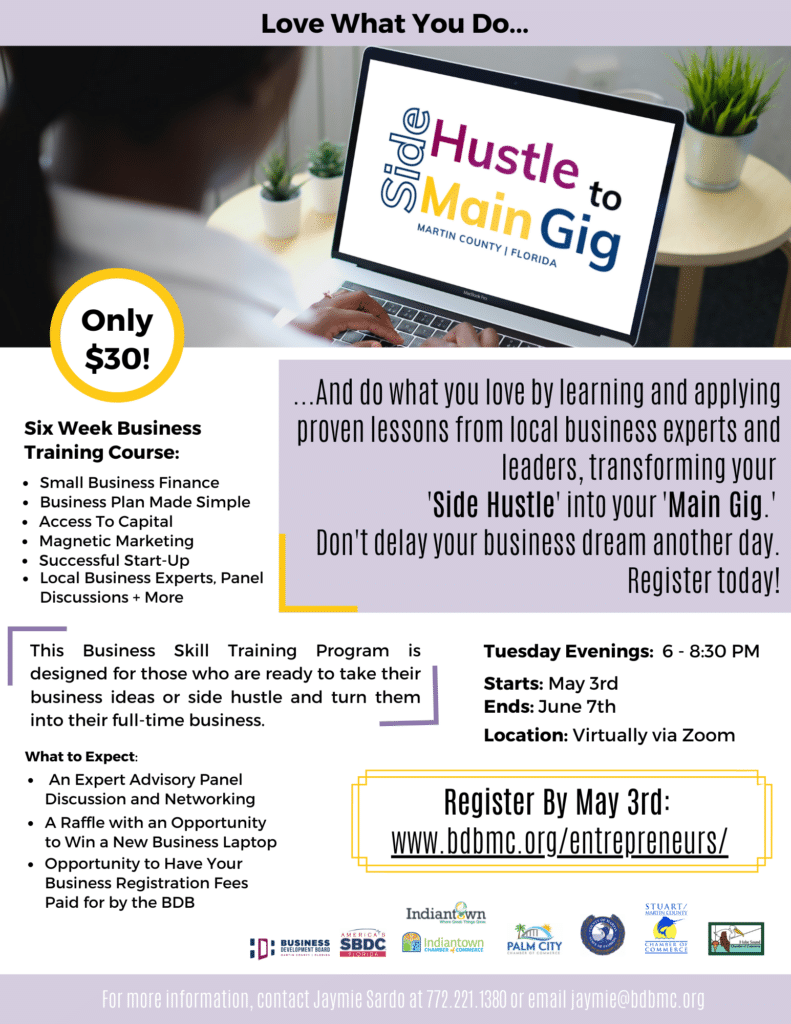 About Side Hustle to Main Gig
This six week course is geared towards those very new into their business cycle or those considering starting their first business. The program includes skills training sessions specifically created for Martin County entrepreneurs and future business owners to prepare you for a steady gig by thinking through all the angles, learning proven business methods, and gaining access to local business advisory experts.
Over six weeks, you will learn about marketing your business, planning for success, financial basics, and much more. In addition, a local expert will be present every class to share their advice and to answer any questions you have.
The cumulation features a business laptop raffle, an expert panel, and a covering of business registration fees! *Guidelines for eligibility apply*
When and Where:
Virtual 6-Week Session Dates:

Tuesday Evenings 6:00pm – 8:30pm
May 3rd, May 10, May 17, May 24, May 31, & June 7th

Virtual Session Via a Zoom Link information:

Participants will be emailed a Zoom Link each week by the Program Coordinator.
How to apply:
Complete the Side Hustle to Main Gig online Registration Form
Pay the $30 Program Fee.
Applicants will be notified of acceptance into the program via email from Program Coordinator.
Contact Jaymie Sardo at 772.221.1380 or email at jaymie@bdbmc.org to reserve your seat today!
---
Session Overview
Tuesday, May 17th – Session 3
Access To Capital: Without adequate financing, through microloans, commercial lending, or investment capital, most entrepreneurs cannot start new businesses or grow their existing companies. This session will help you understand the various options for obtaining financing for your small business.
Meet Session 3 Instructor: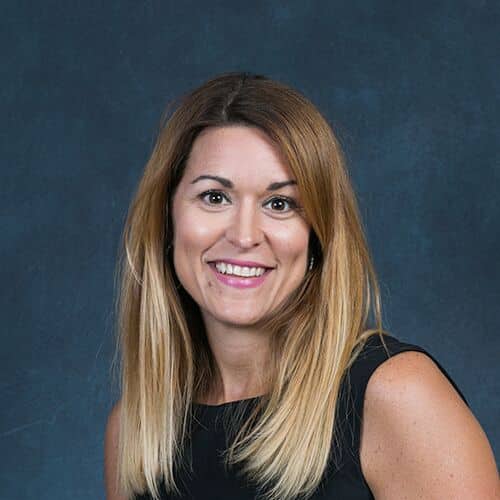 Meet Session 3 Local Business Guest Speaker: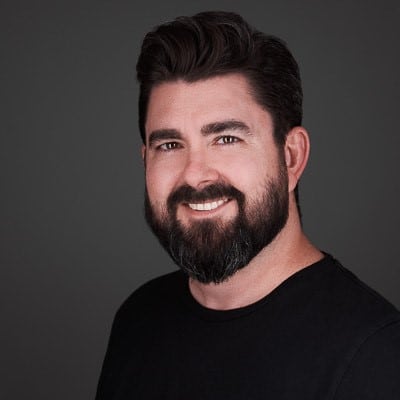 Small Business Financial Training : Taking the leap and turning your business idea, hobby or side hustle, into a full-time profitable business can be nerve wracking. For this session you will learn what aspects of finance you need to consider when you are starting a business or launching a new business or service.
Meet Session 2 Local Business Guest Speaker: 
Tuesday May 3rd – Session 1
Business Plan Made Simple: So, you have an idea, skill, talent or passion and you want to build a business around it, but you're not quite sure where to start when it comes to turning what you're good at doing into a profitable business. The first place to start is by developing a business plan and it can be intimidating at first. This session outlines the basic knowledge that you need to have if you want to create a profitable business.
Meet Session 1 & 2 Instructor: Tom Kindred, Regional Director, Florida Small Business Development Center @ Indian River State College. Tom has spent 25 years managing private businesses in St. Lucie County, including serving 20 years as President of Sunrise Tractor & Equipment, a Ford New Holland equipment dealer. During his tenure as President of the company, he directed, coordinated, and managed sales of over $148 million. . Since 2007, Tom has been an Adjunct Professor at IRSC in the areas of entrepreneurship and business. He was recognized as the Business Department's Adjunct Professor of the Year for 2011 and was presented with the 2014 Impact Award from the National Association for Community College Entrepreneurship (NACCE). The award was given in recognition of Tom's "Excellence in Providing Technical Assistance and Training to Entrepreneurs and Existing Businesses and in 2019, he was awarded IRSC's Ambassador Award for outstanding representation of IRSC throughout the Treasure Coast.
Meet Session 1 Local Business Guest Speaker: Jeff Leslie, President at ITS Fiber, LLC. Jeff is the owner and CEO of two leading edge telecommunications companies located in the Treasure Coast Region of South Florida. Jeff' is also a Certified Public Accountant and has an extensive background in finance having served as an auditor with the former National Accounting Firm. Arthur Andersen & Company, where he gained experience working on several fortune 500 companies. He has also been the auditor for a National Bank and has been the Managing Partner of a local CPA firm serving clients throughout the Treasure Coast of Florida where he developed a significant practice in finance, tax, and utilities. Jeff is presently a Bank Director and has served the Bank in that position for over 15 years and is very active in his community serving on numerous national, local and regional Boards and committees and serves as a Deacon at his Church.
---
Side Hustle to Main Gig Testimonial
Do Business with Martin County Martin County encourages participation by Disadvantaged Business Enterprises (DBE) and small businesses in the public contracting process. Additional DBE information can be found here and bid opportunities for the Martin County Board of County Commissioners are posted here. Register on the DemandStar website to receive notification of upcoming bid opportunities by email.