CareerSource Research Coast– Connecting employers with qualified, skilled talent and Floridians with employment and career development opportunities.
Looking for Employment? Search these HOT JOBS in our area.
If you're in the job market, searching for a career or something to do part time, we welcome you to search the jobs that we have available. Learn more here.
Whether you're …
an employer seeking skilled talent to fuel productivity;
an individual pursuing a career that makes every day rewarding; or an entrepreneur ready to make your mark in the staffing world;
Learn more here.
Every day, we help people find jobs and provide workforce solutions to businesses. Learn more here.
Looking for local job opportunities or looking for great people? Contact these key partners.
---
NEW! CareerSource Research Coast will reopen all Indian River, Martin and St. Lucie County career centers by appointment only on June 1. New safety measures take effect upon reopening to protect visitors and staff. To help mitigate the spread of COVID-19 and maximize the availability of career center resources, all visitors must schedule an appointment prior to their arrival and adhere to new safety measures. These include a mandatory temperature check, COVID-19 screening, career center entry and exit protocols, use of personal protective face mask, and social distancing. Visitors who refuse to adhere to these new safety measures, exhibit COVID-19 symptoms, or have temperature readings above 100.4 degrees Fahrenheit will need to reschedule their appointment for a later date. (May 26, 2020)
---
Upskill at IRSC in Just Six Weeks. Online Classes Start June 24.
As a result of the economic conditions caused by COVID-19, many individuals have been impacted by a drastically changed workforce environment that has altered employment opportunities for millions across the nation. In response to unemployed or furloughed workers who are thinking about their next roles, as well as individuals looking to improve job security with their current employers, Indian River State College is offering a variety of six-week certificate programs in key workforce disciplines. Classes begin online during the week of June 24.
IRSC welcomes new and returning students who are evaluating their current skill sets and looking to engage in online courses to develop new ones. The College also encourages business leaders who seek to upskill their workforces to consider these essential skill-building programs for their furloughed employees. Certification will be offered in areas such as bookkeeping, computer science, office specialist, effective management, human resources, business and marketing.
Registration is now open, and financial aid is available to those who qualify. (May 26, 2020 – 9:30 a.m.)
---
Employees Needing Florida Reemployment Assistance? If your employment has been negatively impacted as a result of the mitigation efforts in Florida to stop the spread of COVID-19, you may be eligible to receive Reemployment Assistance. Click here for Department of Economic Opportunity FAQs. Need to apply for benefits, learn more here. Questions? Call the Reemployment Assistance Hotline at 1-800-204-2418 or http://racontactus.floridajobs.org/ for assistance from the Reemployment Assistance unit. (Updated: 3/25/2020 – 7:14 am)
---
Having trouble with filing for reemployment (unemployment) assistance? Download an application and mail it in to Florida Department of Economic Opportunity, P.O. Box 5350, Tallahassee, FL 32314-5350.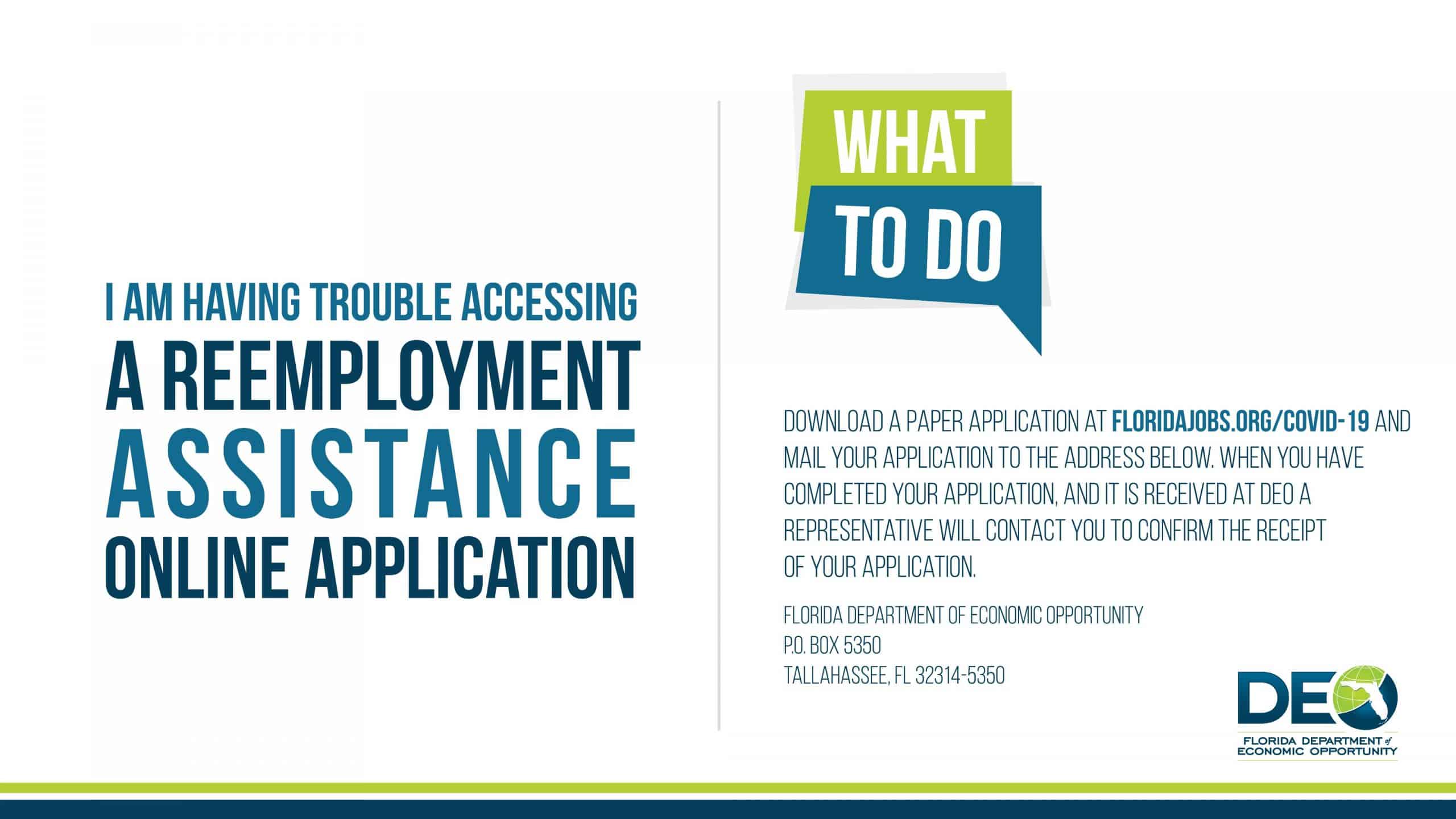 NEW! Martin, Indian River and St. Lucie County residents who still need to file for reemployment assistance benefits may pick up printed applications from door-mounted brochure display boxes at any one of four CareerSource Research Coast career centers including the Stuart Office at 710 SE Central Pkwy, Stuart, FL 34994. And to assist job seekers with the jobs search process during the coronavirus (COVID-19) pandemic, CSRC has also expanded its virtual services to include four virtual workshops: Job Search Strategies, Application and Resume Success, OptimalResume, and Interview Preparation. Please visit www.careersourcerc.com/events for more information regarding these workshops or visit the CareerSource Research Coast Covid-19 portal to sign up. (April 8, 2020 – 10:06 am)
---
Employees Needing Clarification on the Families First Coronavirus Response Act? Click here for details on Employee Paid Leave Rights.
---
Martin County Employers Are Hiring . . . to see the latest list of jobs available visit Employ Florida and filter using Martin County.
---
Key Federal Guidance on Labor and Workforce Issues:
---
Local Employers Needing Short-time Compensation Assistance? – The State of Florida offers a voluntary employer program designed to help employers maintain their staff by reducing the weekly working hours during temporary slowdowns instead of temporarily laying off employees. Click here for the details. Questions? Call the Reemployment Assistance Hotline at 1-800-204-2418 or http://racontactus.floridajobs.org/ for assistance from the Reemployment Assistance unit. (Updated: 3/25/2020 – 7:14 am)
---