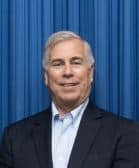 Welcome Jeff Leslie, newly appointed chair of the Business Development Board of Martin County.

"I'm really honored and excited about the opportunity to serve the Business Development Board and I'm very thankful for the board's confidence in selecting me," says Jeff. "I look forward to a very productive year of working closely with the BDB staff and doing everything we can to strengthen Martin County's economy and help position local businesses for greater success."

Best known locally as an almost 22-year veteran and former CEO of two telecommunications companies and a utility company on the Treasure Coast, Jeff brings an almost unparalleled level of diversity in his business experience.

He's consulted, managed, directed and owned companies in construction, dredging, land management and waste and refuge.

Other highlights include:
CPA with a background in finance and auditing
Working with a national accounting firm representing numerous Fortune 500 companies
Working in banking and commercial real estate
"The BDB is incredibly blessed that the high caliber of leadership we've enjoyed throughout the chairmanship of Kate Conter," says Joan Goodrich, executive director, "and we're fortunate that it will be seamlessly followed by the vast experience that Jeff Leslie brings to the position. We're excited about the challenges and successes that we believe lie ahead."