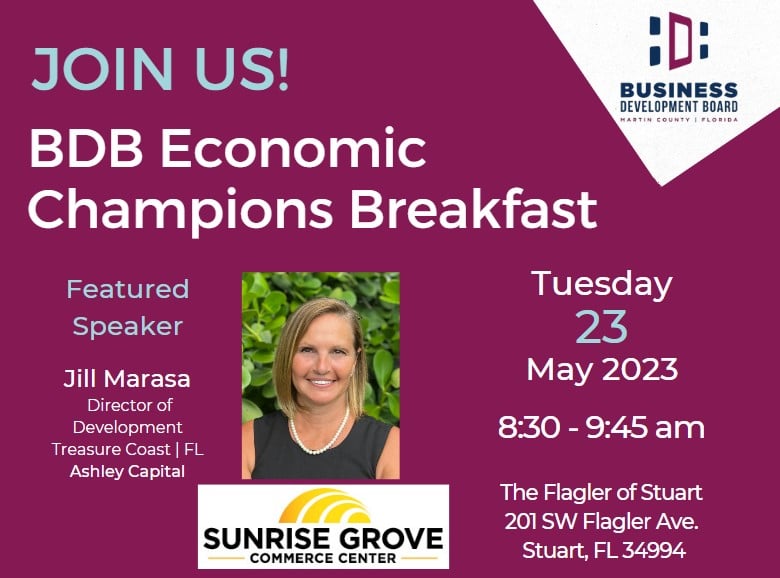 We all know that "season" in Martin County has a defined start and stop time.
But even after Easter, there's no off button on the local economy or in the business of economic development.
At 8:30 a.m. May 23, we're hosting the BDB Economic Champions Breakfast at the Flagler Center in Stuart. Hope you can join us to hear from Jill Marasa, director of development for Ashley Capital. She'll share more about the Sunrise Grove Commerce Center, which is based in Palm City and spans 1,600 acres—some 3 miles directly along I-95.
This is but one of the fun and fascinating events showcasing the engines large and small that make our economy roar.
In April, the BDB teamed up with the Stuart/Martin County Chamber of Commerce in putting on the Martin County State of Aviation & Aerospace. The speakers kicked off with Dewey Vinaya of the Stuart Air Show, followed by a panel discussion featuring Matt Chestnut of Space Florida, Mary Anne Cannon of Pratt & Whitney, John Justak of Advanced Technologies Group and Michael Cooney, director of International Trade & Development Aviation, Aerospace & Defense Industries for Enterprise Florida.
As you can imagine from the pedigree of the panel, the conversation took place at a (ahem) high level. Kudus to the speakers for keeping things from going over my head in sharing details about the aviation industry's advances in jet engine operation to reduce noise, lower emissions and extend distance of travel. One example Mary Anne cited described an aircraft engineered to fly "nonstop from JFK to Ireland to London."
We even learned that when it comes to exciting accomplishments in engineering, the past is quite often prologue.
"In 1958 when we came down to West Palm Beach," says Mary Anne, "we actually developed for the miliary a hydrogen powered engine. We ran it on a West Palm Beach plane. So we did it. We can do it again. That's what we're working on—we're working on hydroelectric."
Speaking of impressive technologies, just this week, Pierre Taschereau, BDB team member and expert economic developer who specializes in foreign direct investment, attended the Xponential tradeshow in Denver.
The event premiers the latest technologies in robotics applications, including autonomous drones programmed to navigate electrical utilities and perform vital functions without imperiling human life. Demonstrating just how small the world is, one panel of experts featured an FPL representative who shared with the audience how impactful such drones proved in surveying the solar farm in Indiantown.
"This transformational tech wave," Pierre told me, "Is redefining our future in ways similar to what the Industrial Revolution did in the 18th and 19th centuries."
We can look for such technologies to soon make major inroads in, among other industries, aviation, marine, agriculture and tourism—all vital Hubs of Excellence that currently fortify Martin County's economy.
Such an exciting time to be alive and such an exciting place to experience it all—whatever season we're in.
This article can also be found in the May 14, 2023, Friends and Neighbors of Martin County Newsletter.