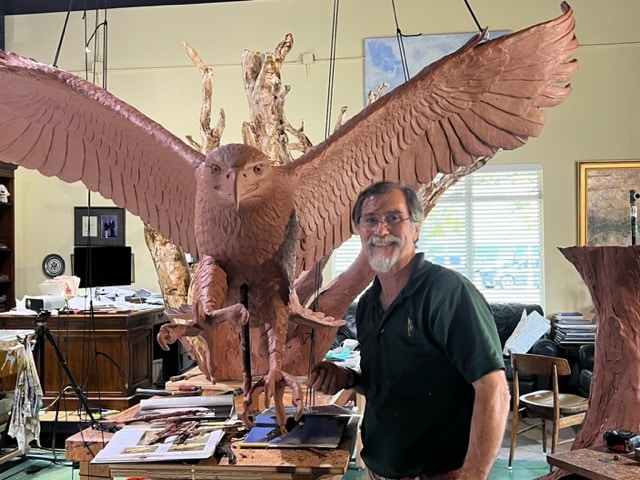 The work of award-winning wildlife sculptor and painter Geoffrey C. Smith is celebrated worldwide and especially beloved locally. His 19-foot-tall Stuart Sailfish Monument Fountain stands as a local landmark and tourist attraction.
With both a studio and gallery based in Stuart, Smith cultivated his love of the outdoors living in California, Montana and Florida. At an early age, he discovered his passion for sculpting while working as a decoy carver. By casting his sculptures using the ancient lost-wax method—a tedious process that preserves the details of the original clay sculpture using multiple molds and molten bronze heated to more than 2,100 degrees Fahrenheit—he refined the means to meet the ever-increasing demands for his creations.
Geoffrey spoke with us about his work and the business of art.
How did you get started making your art into an enterprise?
I started doing woodcarvings when I was 15, 16 years old. I made decorative duck decoys. Somebody offered me 20 bucks and it started from there. I would make them and sell them. I just did it for fun. I had no idea it would become a vocation.
How did you make that transition to professional artist?
After graduating from college in Montana, I learned about the lost wax method and realized you could make a lot of them. I started making more bronze sculptures and I just stayed at it. I was 21, 22 years old. I'm 62 now—so it's been 40 years. I sold to hunters and conservationists—then I started going to art shows.
What led you to this area?
I had a friend in Jupiter. I met (the late local art patron) John Payson and he handled my work and that's how I found this area. I got tired of the cold in Montana and moved down here 27 years ago. I was able to move into our gallery at 47 Osceola Street downtown. That was 26 years ago. Today, it's one of the oldest businesses on Osceola.
You kept growing from there.
Yes. Then I bought the studio over on Kanner Highway. It was an old, converted dance studio. The hurricanes of '04 wiped it out.
Did you lose any artwork?
No, not so much. But it tore the roof off. I sold the building and bought over on Commerce Street and was there for about 10 years. Then I noticed this West Marine building that had been empty for quite some time and I was able to purchase what's today the Geoffrey C. Smith Galleries in Port Salerno. That was about 10 years ago.
Our area is fortunate that your work adorns a lot of our public spaces.
Thank you. Well, the Stuart Sailfish fountain was my big landmark sculpture and that was in 2001. That piece is literally known in marlin fishing circles all around the world.
Is there any point in life that you ever doubted your choice or considered making a living some other way than through art?
I've never done anything else. I never had a Plan B. I sculpt what I'm interested in. The big thing in the arts is slowing down. Nature will reveal anything to out if you pay attention. We live in such a fast-paced world. It's unnaturally fast. All the arts are very old traditions.
How do you square the creative nature of what you do—in which you're so obviously gifted—with the tedium of performing day-to-day business responsibilities?
Essentially, art is a manifestation of the philosophy of artists—that includes the patron and the collector. I wouldn't be where I am today without the patron that collects my artwork. The patron does need to turn over or you're out of business.
Absolutely.
Art is kind of antibusiness. Your goal can't be to maximize profits. My goal is to create beautiful things. I try to be smart enough at it to create beautiful things that people are interested in. But there are a lot of aspects of my work that are very laborious. I don't enjoy accounting.
What aspects of the business side do you find yourself enjoying?
I do enjoy marketing—which I think is an art in and of itself. It's a very creative process. Now we do stuff with storytelling videos. We published a book back in '04—but it just takes time. I don't have enough hours in the day. I still walk into the studio with the same enthusiasm that I had 20 years ago, even 40 years ago. I love creating something that never existed before and that makes people happy. There's a lot of ugly in the world and I'm trying not to be part of that. In the Port Salerno gallery, it's like a museum and people usually walk out happier than when they walked in.
How do you like living and working—and sharing your talent with the world—from here in Martin County?
I think Stuart is a great place to live. I raised my kids here. Martin County is a great place to have a business. It's home to a lot of people who like nature—and my sculptures are for the most part birds and fish.