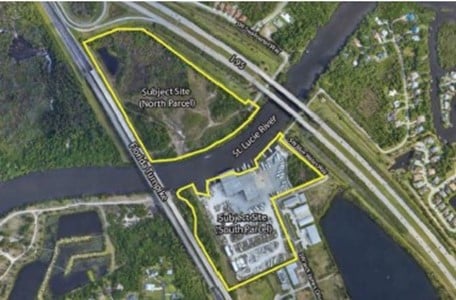 PHQJ-1 was a request for approval of a master and phasing plan and phase 1 final site plan for Willis Custom Yachts.
This proposal plans for improvements and additions to an existing marine manufacturing facility, formerly American Custom Yachts. The approximately 66.2-acre site is bisected by the St. Lucie River.
The site has an existing 48,929 square foot marine maintenance building and associated covered wet and dry slips. The improvements for phase 1 include a new 33,544 square foot canopy over existing wet slips and new dry slips to be located adjacent to the existing canopy, a new 100,972 square foot marine manufacturing warehouse building, a 40,000 square foot trades and skilled services building, and a 2,050 square foot restaurant for the employees use.
Phase II will be subject to a separate final site plan. Proposed within the Phase II master plan is a 100,972 square foot office building and 22 covered wet slips.
The Board unanimously approved the item.