#MartinTogether
Business owners, show your customers you're committed to following public health and safety guidelines by taking the #MartinTogether pledge. TAKE THE PLEDGE
---
Breathe In . . . Breathe Out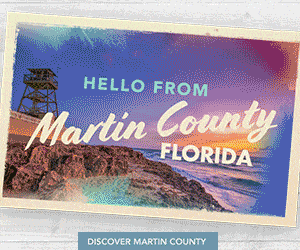 ---
Martin County Tourism Update #7 (June, 2020)
MARTIN TOGETHER
 
This week the Martin County Office of Tourism launched their #MartinTogether campaign. This multimedia campaign is being launched to help support local businesses and raise awareness about traveling safely amid COVID-19.  
 
A dedicated website wwww.martintogether.com has been established. On this page, businesses can show their customers they are committed to following public health and safety guidelines by taking the #MartinTogether pledge. Components of the pledge include the most up-to-date safety recommendations set by the Centers for Disease Control and Prevention . Once the pledge is signed, each business will be added into the #MartinTogether directory so residents and tourists alike will feel as confident as possible while supporting local businesses.
 
The goal of this program is to help bolster consumer confidence and support local businesses as they follow Florida's reopening guidelines. As an added incentive to participate, the #MartinTogether program will be bolstered by a paid local media campaign.
 
Local businesses will also have access to the #MartinTogether toolkit, complete with branded signage and social distancing floor decals.
 
MEASURING THE IMPACT
 
Please help our community document the economic impact of COVID-19 on tourism by clicking on the link below to take Destinations Florida's survey.
 
This is the 3rd wave of this survey. Tourism organizations across Florida are sending out this same survey so that we will have consistent data on a state-wide basis.
 
If enough industry partners complete the survey to make results valid, we will receive a report specifically for our county.
 
Here is the survey link: https://www.surveygizmo.com/collab/5511823/COVID-19-Impact
 
Your answers are confidential and will be seen only by Downs & St. Germain Research, which is doing this work pro bono.
 
SHORT TERM RENTALS
 
Per the Governor's Executive Order 20-123, all counties seeking to reopen vacation rentals were required to submit a written request and rental safety plan to
The Department of Business and Professional Regulation Secretary Halsey Beshears for review and approval. The Martin County Short Term Plan was approved on May 22nd and details can be found here.

 
Any properties that submit bed-tax are eligible to be listed on the tourism website 
www.discovermartin.com at no charge. If your property is not already listed and you would like it to be listed, please send any images and details on your property to nokiye@martin.fl.us for inclusion. Here is an example of a recent listing.
 
 
Additionally, properties with special offers may add those offers to the special offers page. Please make sure to include the dates that your offer is valid. The tourism office does remarketing off our website and any listed offers are sent out to our email database
 
WORKING TOGETHER
 
Are you on social media? We are! Visit us on Facebook, Instagram and Twitter.
The quickest way to engage with our team is through our various social platforms using the @DiscoverMartin handle or by sending us an email at info@discovermartin.com. All industry updates, along with links to important COVID-19 information, are posted to the tourism COVID-19 page. 
 
 
PARKS AND RECREATION MONTH
 
The Martin County Parks and Recreation Department has created a unique community building opportunity for businesses that participate in their "We Are Parks and Recreation" initiative. During Parks and Recreation Month, the Martin County Parks and Recreation wants to CHALLENGE the public to stay active and visit our parks in the county via a scavenger hunt.
 
They are currently seeking donations from local businesses to help make this event challenge successful.  In exchange for your in-kind donation, your business will be recognized on the Parks and Recreation social media channels. Please contact Carlos Morales at cmorales@martin.fl.us for more information.
 
 
MARTIN COUNTY BOARD OF COUNTY COMMISSIONERS UPDATE 
 
The Martin County remains steadfast in our resolve to make Martin County a safe and healthy place to call home. As we move into the recovery phase, protecting the health and safety of our employees, residents and visitors remains the county's primary goal. Collaborating with federal, state and local partners, we will provide guidelines for our community with a data-driven approach. Together we will approach new challenges with resilience and sustainability to protect that which is most precious to us. Together we can get through this. Together we can move our community forward. Recent updates may be found  here.
 
FACE COVERINGS IN MARTIN COUNTY
All persons working in restaurants, grocery stores, food service, any retail establishments, businesses open to the public or any other locations visited by the public where social distancing is not possible within incorporated and unincorporated Martin County shall wear face coverings.
All other persons physically present in any public place in Martin County are strongly encouraged to wear face coverings. 
A face covering includes any covering which snugly covers the nose and mouth, whether store bought or homemade, and which is secured in place. Persons who wear masks should review the CDC and Florida Department of Health guidelines regarding properly and safely applying, removing and cleaning masks.
Medical and surgical masks, such as N95 masks or other similar medical surgical masks, should be reserved for health care personnel, police, fire fighters, emergency management and other first responders engaged in life/safety activities.  
A face covering shall not be required for persons who have trouble breathing due to a chronic pre-existing condition.  Recent updates may be found  here.
 
 
MARTIN COUNTY BUSINESS RESOURCES
 
The Martin County Business Development Board (BDB) is here to help navigate local, regional, state and national resources. They have created a COVID-19 BIZ Hub to help centralize all current and forthcoming information on key announcements, new services, programs, virtual events and community efforts to assist local businesses through this ever-changing environment. You can also call them at 772.221.1380 or email info@bdbmc.org with any questions or needs.
 
The BDB in collaboration with GIS Planning have implemented a new tool, 
ZoomBusiness.  This interactive directory showcases information on local businesses   Businesses may add themselves by clicking the button on the BDB website and input all their business information.  Click the  OPEN FOR BUSINESS tab to get started. 
 
"Safe. Smart. Step-by-Step. Plan for Florida's Recovery."
 
Learn more about Florida Governor Ron DeSantis' "Safe. Smart. Step-by-Step. Plan for Florida's Recovery." Here is a link to the information you need to help navigate the changes and outlines the components of this phased recovery plan.
 
GOOGLE ASSISTANCE
 
Are you taking time to update your Google listing? With information changing rapidly, it is important that your business information is accurate on search engine platforms. The Martin County Office of Tourism and Marketing (OTM), in conjunction with Miles Partnership, has created a useful sheet on how to update your Google presence. Please click here to access this useful guide.
 
GOOGLE TRAINING
 
The Martin County Office of Tourism is a Google-certified DMO and here to assist with resources. If you are a tourism business and would like to get a copy of a Google Workshop presentation that includes useful information on how to manage your Google listing, please email nokiye@martin.fl.us.
 
 
TOURISM INDUSTRY RESOURCES AND INFORMATION
 
VISIT FLORIDA
Visit Florida has set up a COVID-19 Data Dashboard. Gathering this data now is important and may help us speed up our recovery. Please view the data dashboard and other vital information on their dedicated COVID-19 webpage.
 
The Florida Attractions Association (FAA) has a created a list of best practices for attractions to be used as part of the reopening Florida's attractions strategy you may review these considerations here.
The Florida Restaurant and Lodging Association (FRLA) has a
COVID-19 portal with information and resources for both hospitality businesses and hospitality employees. 
 
MILES PARTNERSHIP
Miles Partnership, along with our industry partners, has created and curated a resource center with essential insights and recommendations for DMOs and tourism organizations. These resources provide clear, timely answers to questions about COVID-19 and travel & tourism.
 
ADARA COVID-19 RESOURCE CENTER
To help travel brands adapt to this fast-changing environment, the ADARA Traveler Trends Tracker taps into real-time travel data to track travel-related consumer behavior and identify key trends.
 
ARRIVALIST
Arrivalist's Daily Travel Index measures consumer road trips of 50 miles or more in all 50 U.S. states. The data is drawn from a panel of GPS signals representing road trips taken by car. The insights have been prepared to help travel marketers and other industry professionals gauge fluctuations in drive market trips in any state.
 
 
 IMPORTANT INFORMATIONAL RESOURCES
 
Alert Martin Emergency Alerts
Residents are encouraged to sign up to receive emergency alerts including information about COVID-19 by phone, text, and/or email. To sign up, text ALERTMARTIN to 888777.
 
CDC Business Guidance – Plan, Prepare, and Respond
Recorded conference calls with stakeholders, to review the current CDC guidance and provide an opportunity for stakeholders to ask questions.may be found
here.
 
211
Remember, the 211 Helpline is available 24/7 to connect you with resources for food, mental health, legal support and more. Those in need of help can dial 2-1-1, (561) 383-1112 or text their zip code to TXT211 (898211). The service is free, confidential and available 24/7.
Florida Department of Health
For questions related to COVID-19 in Florida, please contact the Florida Department of Health's dedicated COVID-19 call center, available 24 hours a day, 7 days a week.
24/7 State Hotline: (866) 779-6121
Email: covid-19@flhealth.gov
Website:https://floridahealthcovid19.gov/
 
---
Martin County, Florida was recently named one of 8 American Cities Where Virtual Tourism is Thriving . . . way to go Martin County Office of Tourism for making it happen! (4/9/2020 – 8:53 am)

https://leisuregrouptravel.com/8-american-cities-where-virtual-tourism-is-thriving/
---
DINING AT A DISTANCE
We encourage you to support our local businesses by ordering from area restaurants that are offering take-out, delivery and curbside pickup services. For a list of restaurants offering amended services, visit Discover Martin's Dining at a Distance page.
TOURISM, DINING, INDUSTRY
The Martin County Office of Tourism & Marketing offers resources for our local tourism industry, resources for small businesses and more at their Discover Martin website.
---