Business Focus, Global Success
Martin County FL is optimally located to provide competitive access to your market. Move your product statewide, nationwide or globally with ease using our nearby highways, interstates, airports, rail, cross-Florida canal and ports.
---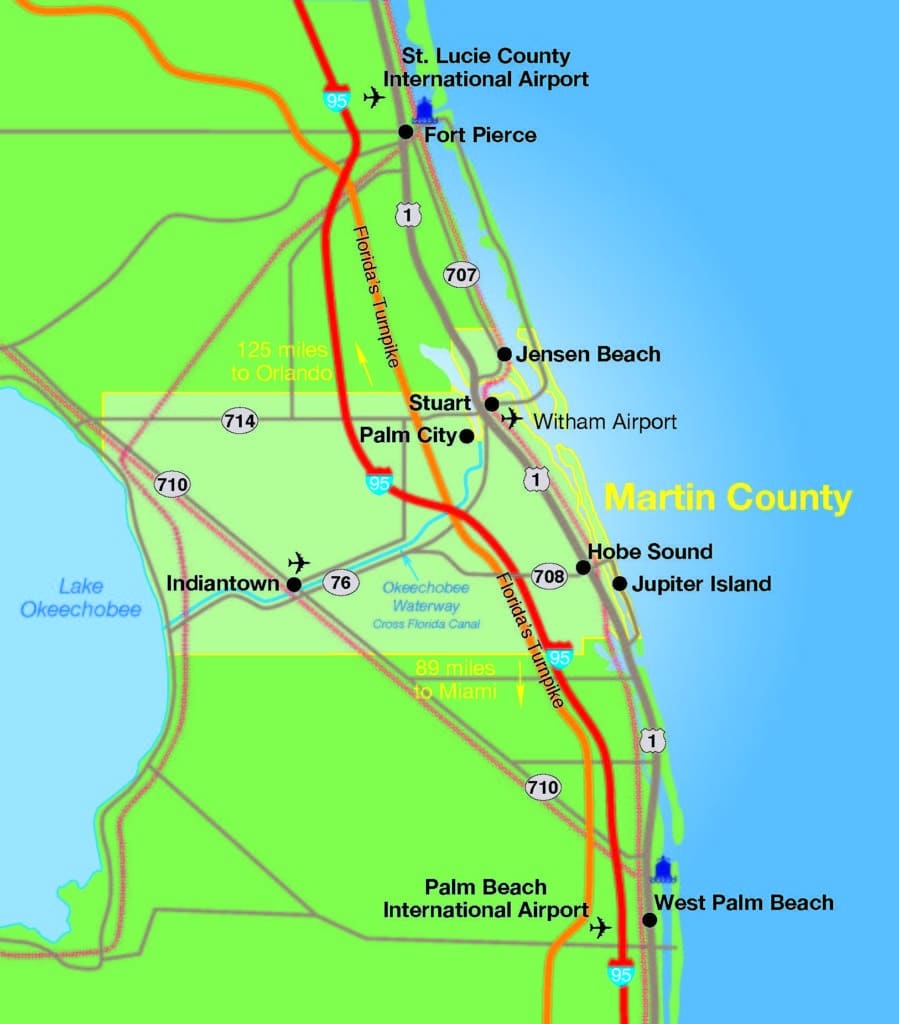 Transportation
Land
Centrally located in southeast Florida, Martin County is close to Florida's Turnpike and Interstate 95. The county is also equidistant to both Miami and Orlando, which means you can reach more than 6 million customers in less than two hours.

Air
Martin County is located within a two-hour drive of six major international airports in Florida:
Palm Beach (22 miles South)
St. Lucie (24 miles North)
Fort Lauderdale-Hollywood (65 miles South)
Melbourne (70 miles North)
Miami (89 miles South)
Orlando (125 miles Northwest)
Executives enjoy the convenience of Stuart's own Witham Field, a general aviation airport located in the heart of Martin County FL. Witham Field boasts three runways, the longest of which is 5,826 feet, and can accommodate aircraft as large as the Gulfstream V and Boeing 737. Two on-site, fixed based operators ensure first-class service. Indiantown Airport is located on 600 acres just minutes north of Palm Beach County.

Water
Martin County FL is surrounded by navigable waterways, with the main charted course being the Atlantic Intracoastal Waterway and the St. Lucie Inlet. The county is approximately 15 miles from two of Florida's 14 ports: Port of Fort Pierce to the north, and Port of Palm Beach to the south. The Port of Palm Beach is the fourth busiest port in Florida and the 21st largest in container thru-put. Port Everglades, Port Canaveral and Port of Miami-Dade can be reached within two hours.Martin County is the only east coast community that can offer access to both the Atlantic Ocean and the Gulf of Mexico, thanks to the Okeechobee Waterway. Florida's only cross-state waterway stretches from Fort Myers on the west coast to Stuart on the east, running through Lake Okeechobee. 

Rail
Florida's rail system comprises 12 line-haul (freight) railroads and four terminal, or switching, companies. Martin County is primarily served by CSX Transportation's 1,778 miles of Florida route, which connect with a total of 19,000 CSX miles covering 20 states, the District of Columbia and Canada, and the Florida East Coast Railway Company's 351 miles of mainline track along Florida's east coast. Intermodal facilities serving Martin County are located in nearby Palm Beach and Miami.

U.S. Customs Facility
The U.S. Customs Facility at the Martin County Airport, Witham Field, is the first intermodal clearance facility of its kind built in Florida. This facility allows Martin County boaters, pilots, residents and visitors to conveniently clear U.S. Customs without having to travel to Fort Pierce or West Palm Beach. This project began in September of 2010 during the Airport Master Planning process with the Martin County Board of County Commissioners.
Funding for the project was provided through an 80/20 grant partnership with the Florida Department of Transportation Aviation (Multimodal) Division and the Airport Enterprise Fund. The facility is operated by U.S. Customs and Boarder Protection. As it is with Witham Field, user fees cover the cost of operations expenses.
https://www.martin.fl.us/Customs
---